Heather Crawford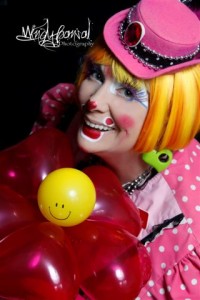 Korki the delightful "Mommy Clown of Hearts"
Has been tickling the FUNNY bones of the young and young at heart for over several decades and is now entertaining to her 2nd generation of FUN.
Professionally trained in the Art of Clowning Korki takes her FUNNY Biz seriously.
Presently the Western Cdn Director for the World Clown Association, Korki helps keep  the clowning community conneted through newsletters, on-line networking and  teaching.
Home based in South Surrey / White Rock Peninsula;  Korki is very Community commtted entertaining at many of the city's events and is the creator of  the walking WR SeaFest Children's Pirate Parade. One of Korki's latest endevors is writing an on-line children's party advice column for www.White Rocks Best.
In dedication to the Art of Clowning Korki attends educational workshops, clown conferences and competitions annually.
** Some Highlights to SMILE About **
Western Canada Director for the World Clown Association
2010 World Clown Association Gold Medalist
White Rock Spirit of the Sea Children's Chair
2008 Clown Idol Troupe Winner
2004 Business Excellence Awards Nominee