Dee Dee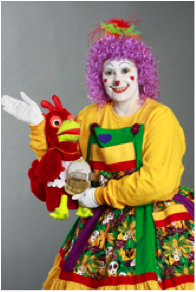 The Clown – 2013 – 2014 – President World Clown Association
Dee Dee the Clown has been performing and delighting children of all ages for over 15 years.
She is the co-owner of Laughter Without Borders Ltd established 2005.
Below is listed just some of her accomplishments:
– Canadian Director of the World Clown Association since 2007.
– Dee Dee may provide stage shows for fairs or larger events. Face Painting, Balloon Sculpting, Glitter Tattoos & Nail Art.
– Dee Dee has trained at the World's Largest Clown School from 2004-2009 by Ringling Brothers and other professionals from around the World.
– Dee Dee was a Guest Performer for The Ringling Brothers and Barnum and Bailey Circus in Anaheim California.
– She attended First International Clown Festival in Mumbai India, November 2010
Dee Dee has won a number of awards and scholarships
World Clown Association Comedy White Face, Denver CO 2009
Clowns of America International Scholarship 2009
Mark Anthony Scholarship 2004,2008
Bo Dino Scholarship 2007
North Dakota State Fair 2000 & 2001,Best Overall Clown (Paradability, Balloon Sculpting, Skit Competitions)
Dee Dee is a member of:
The World Clown Association
Clowns of America International
Clowns Canada
Face and Body Painting Association
SMILE (Safety Messages In Life Education)
Just 4 LAFS (Life and Fire Safety)
Arizona Fire and Burn Education Association
Bump-A-Nose Clown Alley of Winnipeg, August 2010