TD Sparks and Wally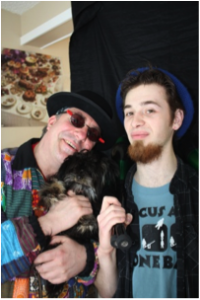 TD Sparks is a really funny magician and an amazing balloon sculptor. Performing for over 20 years, TD Sparks dedicates his full time career to the art of magic and world class entertainment. His peers describe him as a clown without makeup, gifted magician and one of North America's leading balloon sculptors. Many entertainers often seek his knowledge and guidance.
TD Sparks is a professional magician and balloon sculptor who both performs and teaches. Birthday parties, cocktail parties, workshops, corporate hospitality rooms, even big events for communities, festivals or fairs.
Whether close-up or on stage his uniquely hilarious variety entertainment is perfect for any special event.
Around Calgary TD Sparks can be seen performing table side magic and twisting balloons at several Boston Pizza restaurants. You can also find him entertaining at many public events all around Canada.