Puff the Clown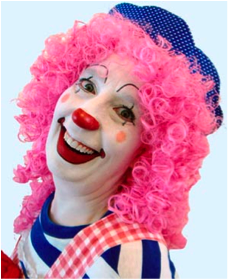 Clowning since 1980 with the Chimo Clowns of Winnipeg.
Listed below are just some of her accomplishments:
Puff, along with her partner in fun, DeeDee the Clown, performed at the First International Clown Festival Mumbai India November 2010
Puff has trained at the World's Largest Clown School from 2004-2009 by Ringling Brothers and other professionals from around the World
5 years at clown camp at the University of Wisconsin Clown Camp in La Crosse Wisconsin
2010 Winner of the World Clown Association White Face Clown Competition
Has been an executive member of the Chimo Clowns for 25 years consecutively
Has been teaching clowning to new Chimo members for 20 years
Was on the Executive of Bump-a-Nose Clowns for two consecutive years
Has taught basic clowning to adults in a classroom setting for 3 years at an Adult Education facility.
This included the three main types of clown make up, costuming, pocket magic, birthday party clowning, beginning and intermediate balloon sculpting
Skills include magic, facepainting, balloon sculpting, juggling, co-operative games, crafts, Clown Ministry and safety clowning
Specializes in Fear Free birthday parties for the very young child
Special Day Care and Pre-School Shows
Workshops for children learning balloon sculptures and juggling
Attended Clown Camp 2005, 06, 07, and 2009.
Instructor and on the Board of Directors at California Clown Campin' in 2010
World Clown Association Convention held in April  2010
Specialized in Safety Clowning. Currently a co-founder of a not for profit corporation,
LAFS Canada Inc. (Life and Fire Safety) Presenting fire and safety shows in schools around Manitoba
Valerie and Deanna are co-Owners
Laughter Without Borders.
Involved with establishing LAFS Canada a non-profit organization teaching Life and Fire Safety.
They share an award from SMILE (Safety Messages in Life Education) for Best Clown Safety Routine
Has been awarded a Mark Anthony Scholarship to attend Clown Camp La Crosse Wisconsin.